Order your new, hand-crafted, Custom Spa Cover in 3 easy steps
Step 1:
Choose your Custom Spa Cover Shape:
Step 2:
Measure your Custom Spa Cover Dimensions: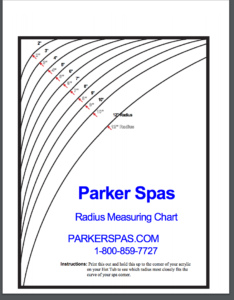 …you will ll need to print our spa cover corner radius measurement guide pdf to help you measure the corner on your spa exactly.
Also please have the measurements ready for your the spa cover that you select (A, B or C from the shape diagram of spa cover options above).
Step 3:
Choosing your Custom Spa Cover Color:Rust
Our Quality Spa Cover Materials:
100% VIRGIN VINYL:
Nominal Weight: 28 oz per linear yard
Cold Crack: 25º F
Thickness: Approximate .97 mm
100% polyester back, mildew treated, anti-microbial treated.
LINER:
We use 13oz double laminated polyester for our bottom fabric for superior durability. Most companies use 8oz. Drain holes are precisely added.
OUR SPA COVERS ARE MADE WITH 100% VIRGIN EPS INSULATION FOAM
 The reason EPS is such a good insulating material is the millions of air pockets which are formed when the blocks are molded. These pockets impede the flow of heat, making EPS an excellent insulator.
R-Rating of 18.20 and Melting point of 464°F