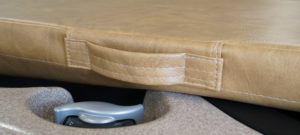 Denver's Finest Spa and Hot Tub Covers
Parker Spas is Denver, Colorado's preferred custom spa and hot tub cover supplier. Each hand-crafted spa and hot tub cover is made in the US using closed cell foam, the highest-quality marine grade vinyls and marine grade threads. The craftsmanship and attention to detail is visible in each spa cover that we produce. We pride ourselves on quality, durability and service.
Quality that shows and durability to last years.
For over 37 years we have been Denver's trusted provider of custom spa and hot tub covers. Each spa cover features 100% polyester back, mildew treated, anti-microbial treated vinyl. They are backed with double laminated polyester for superior durability. Our spa covers come in a variety of colors including Almond, Desert Sand, Rust, Sky Blue and more.
Covers for all spa and hot tub manufacturers
We offer covers for all manufacturers including: Alps Spas, Apollo Spas, Arctic Spas, Aries Spas, Artesian Spas, Atera Spas, Baja Spas, Barefoot Spas, Beachcomber Hot Tubs, Caldera Spas, Cal Spas, Canadian Hot Tubs, Catalina Spas, Clearwater Spas, Coast Spas, Coleman Spas, Comfort Line Products, Dimension One Spas, Dream Maker Spas, Dynasty Spas, Four Winds Spas, Freeflow Spas, Grecian Spas, Hot Spring Spas, Hydropool Hot Tubs, Hydrother Spa & Wellness Equipment, Jacuzzi Hot Tubs, L.A. Spas, Maax Spas, Marquis Spas, Master Spas, Morgan Spas, Nordic Hot Tubs, Pinnacle Spas, Pdc Spas, Premium Leisure, Hot Tubs, Qca Spas, Roberts Hot Tubs, Royal Spas, Saratoga Spas, Softub Spas, Spa Crest Hot Tubs, Strong Pools & Spas, Sunbelt Spas, Sundance Spas, Sun Ray Spas, Sunrise Spas, Thermo Spas, Viking Spas, Vision Hot Tubs and Vita Spas. Use our spa cover reference guide to find your cover.
Design your own custom spa cover in 3 easy steps. Call us and we will talk you through the process 303.431.0064.
Measure your Custom Spa Cover Dimensions: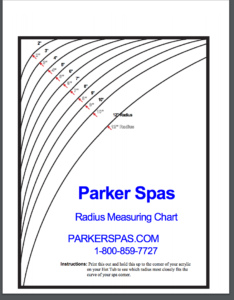 …you will ll need to print our spa cover corner radius measurement guide pdf to help you measure the corner on your spa exactly.
Also please have the measurements ready for your the spa cover that you select (A, B or C from the shape diagram of spa cover options above).